Mesh Body Count Down: Lena
This is the final Mesh body that I'll be posting on until I am thrown more of them.
I did see a
post
that had displayed ...omg so many
She did a nice line up with prices and locations.
(I have bought the pieces used in these posts as well :'3)
If you have any suggestions on which bodies to review
please let me know. I am though looking for bodies that have appliers to them.
My first opinion of this body was horrid.
I had put it on with my own shape I was wearing with The Shops that I had made and omg...
But like every mesh body it has to have their own special shape for them to fit the curves nicely.
Once I modified the shape of my SL avatar it really did turn out nicely.
I did have to shrink myself in a few places so that the body wasn't so edgy.
Body Thickness at 30 ( Normally at 50 )
Breasts at 60
Leg Muscles at 70
Hip Width at 65
Hip Length at 25 ( Normally at 50 )
Butt at 70
I am wearing the Pink Fuel Doll V2 again as she included an applier in the skin package.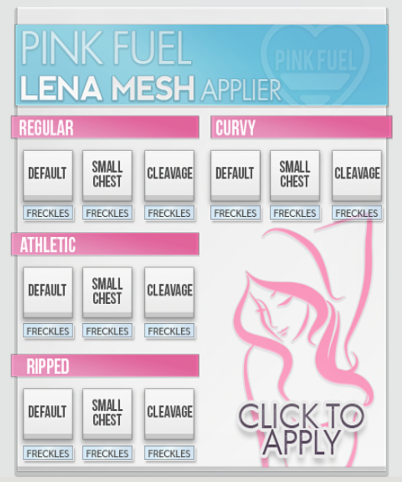 I chose the Curvy Default like I had for my last post for
The Shops
mesh body.
Really in the end I am impressed.
The breasts are smooth if you do not enlarge them too big.
The legs are nice for thicker girls.
I did however notice lines though where the neck, stomach, back are though you have to really cam in for them at times. In the front and back pictures above you can barely tell they're even there at all.
The neck could use a bit more work but really it is nicely done.
To get the same look you will have to wear the *KL* Lena Body Alpha Exact.
I had tried some of the others and it shaped the neck to be a bit weird though.
I found that alpha to be more precise, *KL* Lena Body Alpha Exact.
In the box it comes with:
5 Alpha Layers
5 skins
2 Clothing Appliers
1 Example Shape
1 Body
1 Updater
1 HUD
1 Example Physics
1 Notecard which you should read over if you have questions
Elbow
Slink Attachments
Above I'm wearing the Slink hands Elegant Small and the Slink Mid M size.
They really do blend well, the hands better than the feet as in world when I do look down they are so close to being perfect it hurts.
This is a really big plus in my book for this body.
Butt
The butt, one of my most picky things on a mesh body.
I am so so on it with the shape, spoiled by the roundness of Belleza and The Shops.
In real life the sides do dip in like the top left pictures shows. But it felt flat from looking down and a bit odd / saggy from the other angles.
She also made her twinkle cave rather than have a smooth texture twinkle cave.
HUD
The HUD is laid out pretty simple.
There are 4 tabs
Layers: Lets you hide the layers or clear them out
Alpha: Is not as dynamic as some others but it works well
Colors: In the box you will get all 5 of these colors to match up with.
If you wish to use the slink hands and feet with the supplied skins you will have to buy them each separately for 399 L.
Note: This body does not come with hands or feet. She sells them separately; feet 199 L and hands 239 L.
Extras: There is a HUD that she sells that your partner can buy where he or she can remove your layers. It sounds like a nice role play item.
She sells it separately for 129 L.
Pros
There are two versions of the body, Perky and Lush
Perky is 899 L
Lush is 899 L
Fits Slink like a glove!
Has the option for your partner to play with your clothes ( wiggles eyebrows )
Has a skirt layer installed for clothing, so no extra mesh piece or prim piece.
Detailed twinkle cave ( Picture above if you missed it )
Slowly some skin creators and clothing designers are coming out with appliers.
It does look like you can store some outfits in the HUD
Cons
Does not come with hands or feet
Some lines on the mesh body
Can not turn off nipples so it will be very "cold" for you.
I noticed with the clothing given on the underwear it is very nipply but it isn't as noticeable with the dress she provided.
Alpha layers aren't as dynamic
This really is a nicer body than I had originally thought it to be.
It changed my mind on it and I'm now a proud owner of the Lena body.
The price is the lowest out of the 5 I had talked about.
She also offers different add-on's to her body
Hands
Feet
Puffy Nipples ( for the Lena Lush )
Partner HUD
If you are a creator she does offer the
Developers Kit for Free
.
I hope that you enjoyed this and maybe you'll even try out this body.
You'll never know till you try.
Taxi:
Kitties Lair
Market Place:
Kitties Lair