The Mesh Body Count Down: The Shops
This post will consist of The Shops body.
I know a few have stayed away from this company and I wont lie
even I scooted away for the longest time.
I would go there and check out their skins to try and love them.
Do not get me wrong, the textures on them are great! I just can't...make a shape for them
where it doesn't look odd. They cater to a more older / mature avatar, or as I can say Woman.
They bring the avatars to this sexy look with their sharp features.
I just like to be soft and squishy 99.9% of the time.
Some creators are putting out the skin appliers for the body, not just the heads that they feature.
Currently that I know of that released appliers for the body is:
Glam Affair
Pink Fuel (The applier comes with the Doll V2 Skin)
Deetalez
( If you know of more please message me so I may update it :D Thank you ♥ )
There are those who have released appliers for just the head but this post will not consist of that topic
maybe later in the future if I ever get a mesh head to test out I would do a post on such.
I will be posting about the New Pink Fuel Doll V2 skin.
The one I am wearing through the pictures is the Pure.
Breasts are set to 80 on the slider as it was for the Belleza Body in the previous
post
.
Elbows:
Neck:
This is designed for the Mesh Head that they sell. It does fit perfectly with the SL Avatar neck.
The Shops Style Mode HUD:
Start Menu:
When you attach your Style Mode HUD you see at the bottom right hand it says "Click to begin"
The next menu you will see is the bar at the bottom that will display the attachments you have on by The Shops. Right now this includes the feet, body, and hands. If you are wearing the head that would come up as well in the bar.
Feet Menu:
Starting from left to right it begins for myself with feet.
When you click on it, the first menu pops up with a display of which color you can change it to.
I did notice there is a bug in this system when trying to color your feet with this Foot menu.
It does nothing pretty much. But I will get to that in the body section in how to color.
The next is the Modify where you can choose which height / kind of foot you want to wear.
I have all 5 below so that includes: bare, low, mid, high, ouch!
The high and the ouch! come separately and can be bought for an extra 500 L.
When attaching your feet all you need is the one where it says all 5 of the types.
There is no need to switch back and forth between feet with this system.
Body Menu:
There is a lot going on within this one menu.
First starting from the top of the menu to the bottom:
Skin
Skin appliers
Tattoo Layers
Clothing Sets ( Tops and Bottoms together )
Separate Tops
Separate Bottoms
Everything that you buy that is an applier is stored in this HUD.
When you buy an applier and click it so you may wear it a new text appears stating:
"Yay! Load up 'Stylemode' to access your new purchase, have fun!
psst...you can detach and delete me now"
From what I understand from this HUD the appliers are stored and registered to your avatar
via web based server.
So you can delete the appliers that you bought and they'll be in your Style Mode HUD for good.
This really is a great system for changing your skin and clothing appliers.
This is where I will bring up the coloring of your feet.
For some odd reason it wont work on the feet when in that specific menu.
But when you are changing your body color in the body menu it changes: feet, body, hands.
Pretty much an all in one changer.
The biggest bonus is that all your feet are already changed as well so switching from flat to high is easy without having to go into the HUD to re apply it.
Hands Menu:
Sadly this is their downfall a bit. They do not do a hand switcher like the Belleza Body does.
It does come with 5 different hands that you do need to attach on and off.
They are all Left and Right so you can choose which ones you'd like on each hand just like Slink.
You will need to go into the Style Mod menu to re apply the texture to them if you have not worse it with the current skin.
In the picture below you can see the hand menu is pretty obsolete and not needed at his phase.
But I have high hopes that they'll do what Belleza has done with their hands and what they have done with their own feet.
The hands in the pictures I have posted are the Natural Pose hands.
Alpha HUD:
The Alpha HUD is pretty nice.
It does feature a lot of nice options that in the past of the mesh bodies could not give.
The arms are not as detailed in pieces as the Belleza but as a lot to offer in the top of the chest and torso.
This does come separate from the Style Mode HUD.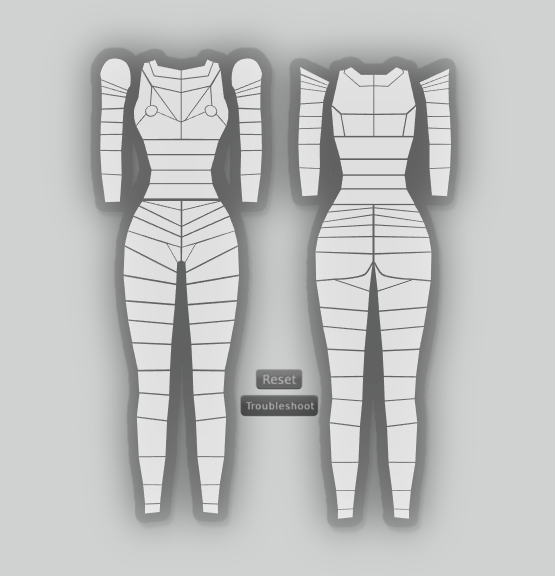 Pros:
There are 4 different types of bodies you can purchase:

Free ( 0 L ): Includes 36 skin tones for The Shops bodies but to wear additional skins/clothing/tattoos/customize you will need to upgrade.

Starter (1000 L ): Includes the 36 skin tones, 1 tattoo layer, 1 clothing layer, but NO alpha HUD

Basic ( 2500 L ): Includes 5 Hands and 3 feet. You'll be able to have the 36 skin tones, 1 tattoo layer, 1 clothing layer and it does come with the Alpha HUD.

Deluxe ( 5000 L ): Includes 5 hands and 3 feet. 36 Skin tones, 2 tattoo layers, 2 clothing layers, and Alpha HUD
The Body is very smooth I do not see many edges or even any.
Able to be used for thin and thicker avatars.
Comes with 5 different hands, depending on which body you purchase.
Comes with 3 different feet, I had done a redelivery of my body to update it, I had bought the deluxe version and also received the feet for all 5 I do not know how long that will last or if it has already been fixed.
Comes with neck blenders where I have been able to wear the body with other skins that have not put out appliers.
They have a great FAQ site for those in need of questions answered including LIVE help: FAQ
Stores your skin/tattoos/clothing appliers in One HUD
Cons:
I see the flickering lines of where the alpha layers are cut.
The hands are not all in one like their feet so you must switch them out via attaching.
You must buy the extra 2 feet, high and ouch!
There are not a lot of shoe creators out there yet for their feet.
Most that I have found charge an arm and a leg just for one pair.
The ones I have posted about are 569 L from Athor.
Possibly laggy, though I have never felt lag from it, as it is high in vertices but please don't change the smooth body ! I love it !
I have to say this is a great body as well.
Personally I have no harsh dislikes about this body minus it's horrible to find shoes for!
So please shoe creators, love The Shops body.
It is a very smooth body and great to work with in pictures.
I would have to say the pros weigh out the cons if you don't mind having to switch hands out for pictures. Plus if you can ignore the flickering of the alpha lines.
It is still in beta but what body really isn't in beta as there are always things needing to be changed up.
Updates will always be sent out so that's the positive for all mesh bodies.
I say try out the free version it's really something that is great if you want to be naked all the time so yay for those that are in the Gorean world, please update your girls to have a great body :'3
I even bet you might want to buy one in the long run.